Discussion Starter
•
#1
•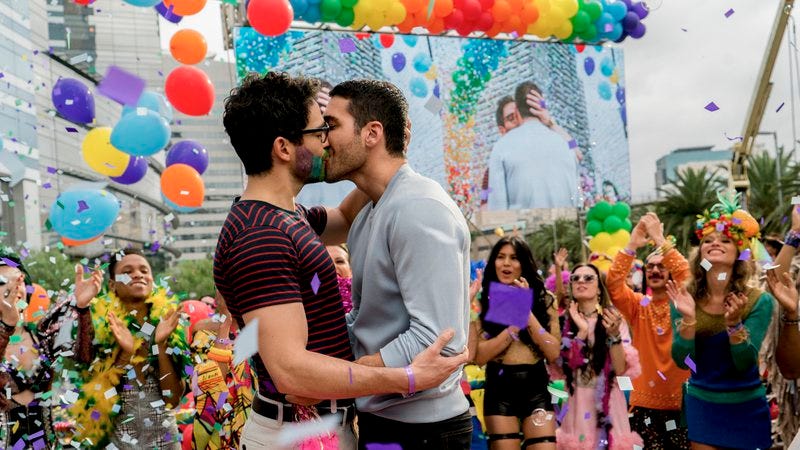 LGBTQ+ (or GLBTQ+) is an initialism that stands for lesbian, gay, bisexual, transgender, and queer. In use since the 1990s, the term is an adaptation of the initialism LGB, which was used to replace the term gay in reference to the LGBT community beginning in the mid-to-late 1980s. Activists believed that the term gay community did not accurately represent all those to whom it referred.
The initialism has become adopted into the mainstream as an umbrella term for use when labeling topics pertaining to sexuality and gender identity. For example, the LGBT Movement Advancement Project termed community centres, which have services specific to those member of the LGBT community, as "LGBT community centers", in a comprehensive studies of such centres around the United States.
The initialism LGBT is intended to emphasize a diversity of sexuality and gender identity-based cultures. It may be used to refer to anyone who is non-heterosexual or non-cisgender, instead of exclusively to people who are lesbian, gay, bisexual, or transgender. To recognize this inclusion, a popular variant adds the letter Q for those who identify as queer or are questioning their sexual identity; LGBTQ has been recorded since 1996.]Those who add intersex people to LGBT groups or organizing use an extended initialism LGBTI. The two acronyms are sometimes combined to form the terms LGBTIQ or LGBT+ to encompass spectrums of sexuality and gender.
Members of the community:
Lesbian
A lesbian is a female homosexual: a female who experiences romantic love or sexual attraction to other females.
Gay
Gay is a term that primarily refers to a homosexual person or the trait of being homosexual. Gay is often used to describe homosexual males but lesbians may also be referred to as gay.
Bisexual
Bisexuality is romantic attraction, sexual attraction or sexual behavior toward both males and females, or romantic or sexual attraction to people of any sex or gender identity; this latter aspect is sometimes termed pansexuality.
Transgender
Transgender is an umbrella term for people whose gender identity differs from what is typically associated with the sex they were assigned at birth. It is sometimes abbreviated to trans.
Transsexual
experience a gender identity inconsistent or not culturally associated with the sex they were assigned at birth.
Two-Spirit
Two-Spirit is a modern umbrella term used by some indigenous North Americans to describe gender-variant individuals in their communities, specifically people within indigenous communities who are seen as having both male and female spirits within them.
Queer
Queer is an umbrella term for sexual and gender minorities that are not heterosexual or cisgender. Queer was originally used pejoratively against those with same-sex desires but, beginning in the late-1980s, queer scholars and activists began to reclaim the word.
Questioning
The questioning of one's gender, sexual identity, sexual orientation, or all three is a process of exploration by people who may be unsure, still exploring, and concerned about applying a social label to themselves for various reasons.
Intersex
Intersex is a variation in sex characteristics including chromosomes, gonads, or genitals that do not allow an individual to be distinctly identified as male or female.
Asexual
Asexuality (or nonsexuality) is the lack of sexual attraction to anyone, or low or absent interest in sexual activity. It may be considered the lack of a sexual orientation, or one of the variations thereof, alongside heterosexuality, homosexuality, and bisexuality.
Ally
An Ally is a person who considers themselves a friend to the LGBTQ+ community.
Pansexual
Pansexuality, or omnisexuality, is sexual attraction, romantic love, or emotional attraction toward people of any sex or gender identity. Pansexual people may refer to themselves as gender-blind, asserting that gender and sex are insignificant or irrelevant in determining whether they will be sexually attracted to others.
Agender
Agender people, also called genderless, genderfree, non-gendered, or ungendered people are those who identify as having no gender or being without any gender identity. This category includes a very broad range of identities which do not conform to traditional gender norms.
Gender Queer
Gender Queer is an umbrella term for gender identities that are not exclusively masculine or feminine-identities which are thus outside of the gender binary and cisnormativity.
Currently Watching
Pose - FX. Tuesdays, 10/9C
LGBTQ+ Musicians We Love
Frank Ocean
Janelle Monae
Tyler the Creator
Sam Smith
Haley Kiyoko
Lil Nas X

SOPHIE
Kim Petras
Kevin Abstract/Brockhampton
The Internet