Discussion Starter
·
#1
·
Shrewd.Clever.Slick.​
MELO
REV
DU
SCOTT.
GEOLINK
ELI
HEAT27
BUBBLEVEST
ANTHONYC
MR. RAGER
BROOKLY718
JOE
TMAC
BASEDVOL
THEHUNDREDS
O S E Y
SHBASKETBALL12
PHILHARMONIC
VITAMIN WATER
B. JOHN
SPOT LIGHT
LUST FOR LIFE
MIDNIGHTKAT
VT.
TONE
YANKEETOMER
SPIDEY
CUDLYFE
NEWYORKNICKS
GAMBIT
ICEMAN24
STEEZE
COLEWORLD NOSNUGGIE
NICELIKECHRIST
YEESY
GREENVNECK
BESTBBALLPOINT5
THEFITTEDFANATIC
FRESHKILLZ
LEGOLAS
BOGEYJENKINS
SKYHIGH869
KRAZYKKZ
YWP
UNIVERSALSWAG
MASALA MAN
SHAKE DIEZEL
DRIZZY HENDRIX
YOUNGBASEDGOD
JRSMITH
MERCURY
yola3x6
IMANSHUMPERT
LouisVuittonDon
BLACKJERRY
ITALIANSTALIAN NY
KRINK
BROOKLYN718
YUNGKING
DENZELWASHINGTON
FIJIBRUH
GODBODY JWILZ
SELECAO
ambitiontowin56
COMMONSENSE
ZEROS
ZO526
DIEGO CASABLANCA
LON OBREEZY
CORRHAX
BUSH.
007
90SBULLS*
PADRE
VERSACE
AVANT
SOLEMATE
RD
__________________________________________________________________________________________________________________________________________________________________________________________________​
2016-17: Aight Lets Try Dis Again Yall
​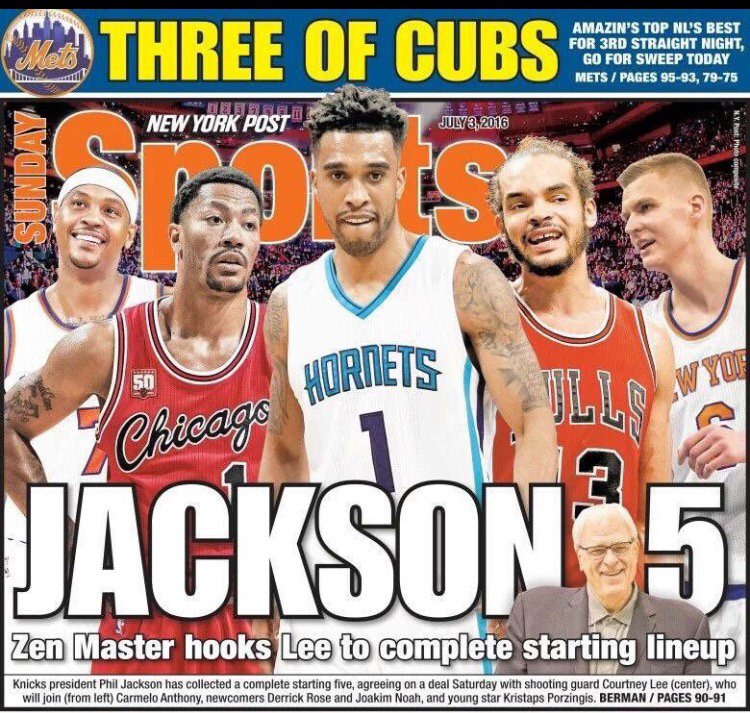 ​
this:
Langston Galloway said:

what the hell was that when we traded JR Chandler Felton and Shumpert and won 17 games. You gut your roster, and got a superstar in the making, now we are grooming him. You don't do that by going back and forth between awful and middling. We won 17 games 2 years ago

and then won 32 the next year

and will likely win incrementally more this year, whether that is 37 games, 45 games or 50 games, you want to go from 32 wins to an ECF appearance

or do you want to be bad for another 6-10 years like the Sixers and Timberwolves and enjoy the "process". There is no guarentee the Timberwolves or Sixers will even be good doing what they are doing.

When Melo is off the books you can have your build from scratch around Porzingis, until then, just be fucking patient. Like people asking for this "rebuild" are asking for another decade of awful, awful, awful basketball. Getting Porzingis playoff experience, and playing meaningful games in April is much more important than trading away every asset we have for nothing, just to get a few picks higher in the draft. Because if you think this team can fall farther than about 10 other teams in the NBA, you're deluding yourself. Nets, Sixers, Timberwolves, Lakers, Suns, Pelicans, Mavs, Heat, Pistons, Kings, Nuggets. You're asking the team not only to get rid of any building pieces they currently have (Holiday, Baker, Kuz, Willy, Lee and even fucking Noah has been decent lately) for the chance at a top 15 pick in a draft full of crapshoots

Sign Jrue Holiday or someone next year, get a really good defender and find a vocal leader like Jason Kidd (could do all this in one by signing CP3) and the team is at 50 wins next season with a core of Melo KP Lee Noah and a real PG.
Also this:
PatEwing said:

firstly, its the knicks fault for that Melo trade, not melo's
secondly, its the knicks fault for giving him a no trade clause, not melo's
thirdly, it's the knicks who don't want him on the team, not Melo
so being that the knicks have given him all the power, he's going to use it