Discussion Starter
·
#1
·
Will update top with latest news/videos​
Made To Love video out now!
John Roger Stephens (born December 28, 1978), better known by his stage name John Legend, is an American singer-songwriter and actor. He is the recipient of nine Grammy Awards, and in 2007, he received the special Starlight award from the Songwriters Hall of Fame
Debut Album
Title
: Get Lifted
Released
: 2004

Second Album
Title
: Once Again
Released
: 2006
Third Album
Title
: Evolver
Released
: 2008
Fourth Album
Title
: Love In The Future
Released
: 3rd September 2013
First Official Single
Who Do We Think We Are (feat. Rick Ross)
Second Official Single
Made To Love (prod. Dave Tozer)
Tracklist
[list type=decimal]
[*]1. "Love in the Future (Intro)"
2. "The Beginning..."
3. "Open Your Eyes"
4. "Made to Love"
5. "Who Do We Think We Are" (featuring Rick Ross)
6. "All of Me"
7. "Hold on Longer"
8. "Save the Night"
9. "Tomorrow"
10. "What If I Told You? (Interlude)"
11. "Dreams"
12. "Wanna Be Loved"
13. "Angel (Interlude)" (featuring Stacy Barthe)
14. "You & I (Nobody in the World)"
15. "Asylum"
16. "Caught Up"
[*]
[/list]​
Collaboration Albums
Title:
Wake Up! (with The Roots)
Released
: 2010
Title:
Cruel Summer (with G.O.O.D Music)
Released
: 18th September 2012
Tracks with John Legend:
John Legend, Travi$ Scott, Teyana Taylor, Cyhi the Prynce and Malik Yusef: "Sin City"
John Legend and Teyana Taylor: "Bliss"
Pre First Album Material
Title:
John Stephens (released under his actual name; John Stephens)
Released:
2002
Live Albums
Title:
Live at the Knitting Factory
Recorded:

July 2003
Title:
Live At SOBs
Released:
2003
Title:
Live at the Tin Angel
Released:
2007
Title:
Live From Philadelphia
Released:
2008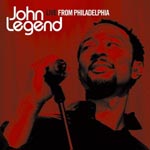 DVDs/Blu-Rays
Title:
John Legend - Live at The House of Blues
Released:
2005