Discussion Starter
·
#1
·
Why not.
25.
Miles Davis-Live Evil
24.
Glenn Gould-Goldberg Variations
23.
Ice Cube-Amerikka's Most Wanted
22.
Janet Jackson-Rhythm Nation
21.
PJ Harvey-Rid Of Me
20.
Lil' Wayne-The Carter II
19.
Nick Cave & Warren Ellis-Assassination of Jesse James Soundtrack
18.
Raekwon-OB4CL
17.
Talking Heads-The Name of This Band is the Talking Heads
16.
Local Customs-Dowriver Revival
15.
Lauryn Hill-MTV Unplugged
Write-ups coming for #14-#1.
14.
Tom Waits-Rain Dogs
Rain Dogs, Tom Waits' 9th studio album, came out in '85: This is prime synth-salivating time. Madonna's "Into The Groove" and Tears For Fears (the synth heavy 80's band Kanye sampled for Coldest Winter) ruled the charts. Imagine how striking, how out of touch a New Orleans funeral, bassoon and banjo heavy album seemed. And what the fuck was Waits even saying? Most 80's music spread the vocals thin, burying them under bold 808's and looping them until their power was significantly lessened. Legend has it that Waits used to scream into a pillow to intentionally his vocals. Rain Dogs finds Waits at his most vocally confident, both in its newfound force and in its matured lyricism. A lyricist worthy of Cohen and Dylan, Rain Dogs has some of Waits most affecting songs: The sweetly mournful 'Time', the swingling 'Big Black Mariah', and the near acapella 'Anywhere I Lay My Head', a disquieting and longing for home vocal up there with Cobain's 'Where Did You Sleep Last Night'. Waits does everything on this album: It's a feast. Said Waits: "If I want a sound, I usually feel better if I've chased it and killed it, skinned it and cooked it."
Essential Track
:
Anywhere I Lay My Head
13.
Big Star-Radio City
Supposedly all 'Power Pop' comes from The Beatles: The punching guitar riffs, the softening melodies, the elegiac and innocent boy and girl relationship lyrics. Big Star is the American version of the Beatles, and unlike the endless grey pellets of the 60's and 70's that took the Beatles model as inspiration, the sounds of Big Star actually hold up---magnificently, I might add. Big Star's focus is distinctly American:Hook-ups in the back of cars (Literally, "Back of a Car"), funk-inspired fuck offs ("O My Soul"), and a standout record that has become famous because Katy Perry took its distinctive spelling ("September Gurls"). And they are all tales from the city of Memphis, perhaps one of the greatest spots for American music. This record far surpasses Beatles-inspired bands like Badfinger, and the songwriting proves itself to be of equal match to Lennon & Paul. Big Star has been called 'America's #1 Cult Band", and they remain underexposed but ardently loved by those lucky enough to hear them.
12.
Kanye West-Graduation
You could probably timestamp the death of hip-hop electro at September 11th, 2007. While limp renditions of hip hop electro arguably remain the dominant sound on the airwaves, Graduation proved the sound could be strikingly contemporary and still pay tribute to the dance inspired origins of hip-hop. Graduation effectively exiled gangster rap from the conversation---even more so than in College Dropout---and ushered in the sound that has dominated hip-hop since. This is the least lauded of Kanye's four rap albums, and it's easy to see why: It's a strange jump in his catalogue----College Dropout was the return of soul, Late Registration upped the soul and added Jon Brion for good measure, MBDTF had the comeback narrative and grandiosity we'd expect from a years long Kanye absence. Graduation, sonically and thematically, is far more a one-off album when put in the context of the four albums, but it has wild successes in the areas that Kanye has consistently explored: 'Can't Tell Me Nothin' is perhaps his best defensively triumphant track (that's saying something for Kanye), 'Everything I Am' is a societal and humbled personal critique worthy of 'All Falls Down' and 'Jesus Walks', and 'Flashing Lights' puts all Kanye's female centered records to shame. Graduation was also the album with the least amount of Kanye baggage associated with it, and that was simply refreshing. The College Dropout goodwill dried up with Kanye's antics, Late Registration--same thing, MBDTF, while perhaps his most remarkable album, has an undeniably heavy, 'this is my greatest work listen up' aura. It's hard to listen to one track on that album without feeling as if you're cheating the whole product. Graduation is the album I return to most: I believe it's the best album with tracks you can pluck out and enjoy (the album is essentially a singles album) , it offers a remarkable bridge between the backpack soul sound and the 'stadium sound' Kanye would pursue ever since, and it really is a fitting ending to part 1 of Kanye's career. Things would fall apart for Kanye soon after, both personally and professionally. His work would become increasingly paranoid. Graduation remains a fascinating album suspended between the two defining periods of Kanye's career.
11.
John Coltrane-Blue Train
Coltrane says more without words than almost anyone says with them, and on 'Blue Train' he says the most. Don't even ask me about "I'm Old Fashioned". Just listen.
Essential Track
:
I'm Old Fashioned
10.
James Brown-JB40
Not all Greatest Hits are created equal. A Greatest Hits record is often a fascinating look into how the public and a label see an artist: Will there be all, and only all, the favorites? Will the collection skip entire albums, entire decades? Will a Greatest Hits album--curiously-- celebrate the actual process of making an album, by including a set of studio outtakes? Greatest Hits have been somewhat cheapened by the fact that almost every artist now releases a Greatest Hits record, but there are few better ways to so viscerally become confronted with the tangles of an artists career and its public perception: James Brown's JB40 is a case study in how to approach a Greatest Hits. There is no other way to treat an artist like James Brown than to offer a massive, 40 song set of chronologically mixed up Greatest Hits. Very few artists can sincerely fill a 16 song Greatest Hits, let alone a 40 song one. But James Brown lived to be a showman: Where to begin? I suppose many people my age remember James Brown from that classic interview late in his years, when his physical powers had waned but his perfectionism remained maniacal. James Brown did not cope too well with the regression of his showmanship abilities, and he took to PCP and gun-toting (not to mention frequent abuse of women who he felt did not fully appreciate his every move). In this classic interview, we see the James Brown that has become the 21st century Youtube sensation:


Two things about this: 1) I remember reading a profile about Johnny Deep living on the island he (Depp) bought, and the reporter was talking about how obsessed Johnny Depp was with how surreal that James Brown interview is. This is Johnny Depp, BFFL with Tim Burton, staring, mouth agape, and marveling in something so surreal. You'd have to have quite a presence to transfix a man who traffics in weirdness. 2) Keith Richards once did a celebrity iTunes playlist, and on it he included James Brown's truly bizarre anti-drug PSA "Fight Against Drug Abuse". Keith Richards, the man with cocaine veins and a nose (supposedly) full of hairs clotted together by his snorting of his fathers actual ashes, listens to James Brown as motivation not to do drugs. That's how fucked up James Brown could be hahah.

But, of course, that's not all James Brown was known for. In his prime, James Brown was the greatest performer that ever lived. Better than Michael, though Michael is right on his heels--it's no secret that MJ was heavily influenced by James Brown' theatrics. Two Youtube videos of indelible performances come to mind, and in a just world, these would be the James Brown videos with the most views:

The first is a James Brown performance the day after MLK was shot. Imagine the rage the country felt. Imagine how strange it is that James Brown, owner of perhaps music most memorable and anguished scream, performs only the day after. Is there any one better to articulate that rage, that confusion than James Brown? Who would be better, who would be that immediate and that visceral at a time when people were at a loss for words?

The second performance is James Brown's 1964 appearance at the T.A.M.I show. This is the greatest live performance, ever. Bar none. Every single day before he would step out of the house, James Brown would say, "Do I look like someone people would pay to see?" James Brown showed up at the T.A.M.I concert---a remarkable concert featuring the likes of the Rolling Stones(still young then), The Supremes, The Beach Boys, and more---and was told he would not be headlining. He would in fact be followed by the very young Rolling Stones. James Brown wasn't too fond of being passed over. What follows is a furious set of expert timing and seemingly improvised theatrics that not one single performer has been able to match since. Seriously, everything is on rhythm. Keith Richards, to speak of him once again, said the Stones only made one mistake in their career: Going after James Brown on the T.A.M.I show. Please, please, please watch this video.

I could go on and on when it comes to James Brown, and thankfully this Greatest Hits album is able to masterfully balance the competing paradoxes of a great record, and a paradox that is exceptionally difficult to achieve in a Greatest Hits record: The album succeeds in its own right, is a wonderful intro for first time fans and devotees alike, and yet 40 songs don't feel like enough and one wants more. I know of no other artist that has such a wide depth of work and reference, from his own work to the fact that he is perhaps the most sampled artist in hip-hop history (imagine that he is used for the conscious shit like Public Enemy and 'Mathematics', and also used for shit like 'Gotta Have It', one of the most unapologetically materialistic records of all time). The Godfather of so much more than soul. This write-up has been all over the place, but I hope James Brown would approve of its manic energy, if not making notes on its many imperfections.

9. Kate Bush-Hounds of Love


If someone let Angela Carter write an album, this would be the result. This fairy tale inspired album is far more in touch with the gothic and grim (the Borothers Grimm) than the seductive saccharine of Disney or, even, Madonna. Madonna was in fact the the artist who was dethroned on the charts by Hounds of Love, and it would be difficult to find a greater contrast and changing of the guard. Madonna recorded her albums in 1980's studios with purpled velvet and caked with millions; Kate Bush recorded in a barn. The title track is the highlight here: 'Hounds of Love' is a song about the being right on the cusp of falling in love, when the wave of adoration comes to a crest and one has to decide whether it will become bright splash or fading foam. The love song begins, properly, with a horror sample (from the film 'Night of the Demon'). The lyrics are the kind worthy of the alternately haunting and warm that define any great folk/fantasy tale:'I found a fox caught by dogs/he let me take him in my hands/his little heart, it beats so fast/and I'm ashamed of running away'. Every love story is a ghost story, after all.


8. Clipse-Hell Hath No Fury


I've written about this record before, but like any favorite record, testimonies to its strengths never feel finished. This record is a strange hip-hop record release for many reasons, especially when considering its sub genre: Coke rap. Coke rap depends on homage (many rappers literally take the name of a famous mob boss or drug dealer) to an exceptional degree. Combine the fact that Pusha and Malice are content to be just who they are with the fact that this album has NO SAMPLES, and this album is a true anomaly. Furthermore, coke rap lives and dies on the tragedy model: You need the highs and lows, you need the 'Roc Boys' and the 'Fallin', the 'Criminology' and the 'Heaven and Hell'. But on 'Hell Hath No Fury', although it has the tragedy model, I don't believe the guilt. It's the guilt of being caught, not of actually doing the deed. The finest moments on this record are the stuntin' ones, like 'Ride Around Shining' and 'Keys Open Doors'. Interestingly, on the leaked version of this record, 'We Got It For Cheap' ends with a sample from Pulp Fiction. The sample is taken from the famous scene when Samuel Jackson recites the Ezekiel 25:17 verse to man he's about to kill: Blessed is he who in the name of charity and goodwill shepherds the weak through the valley of darkness, for he is truly his brother's keeper and the finder of lost children. And I will strike down upon thee with great vengeance and furious anger those who attempt to poison and destroy my brothers. And you will know my name is the Lord when I lay my vengeance upon thee. Hell Hath No Fury doesn't include the moment when that verse appears again in the film, and Samuel L. Jackson is asked why he recites that verse. His response is fitting to the film, and to the album: And if you ever heard it, it meant your ass. I never gave much thought what it meant. I just thought it was some cold-blooded shit to say to a motherfucker. No doubt that Pusha and Malice try to be the shepherd some times on this album (they did that on TTCD, and look how that turned out), but the moments we remember are when they are admittedly the tyranny of evil men, and they dare you to look away. This is my favorite 'fuck you' album, bar none.

7. The Rolling Stones-Exile on Main Street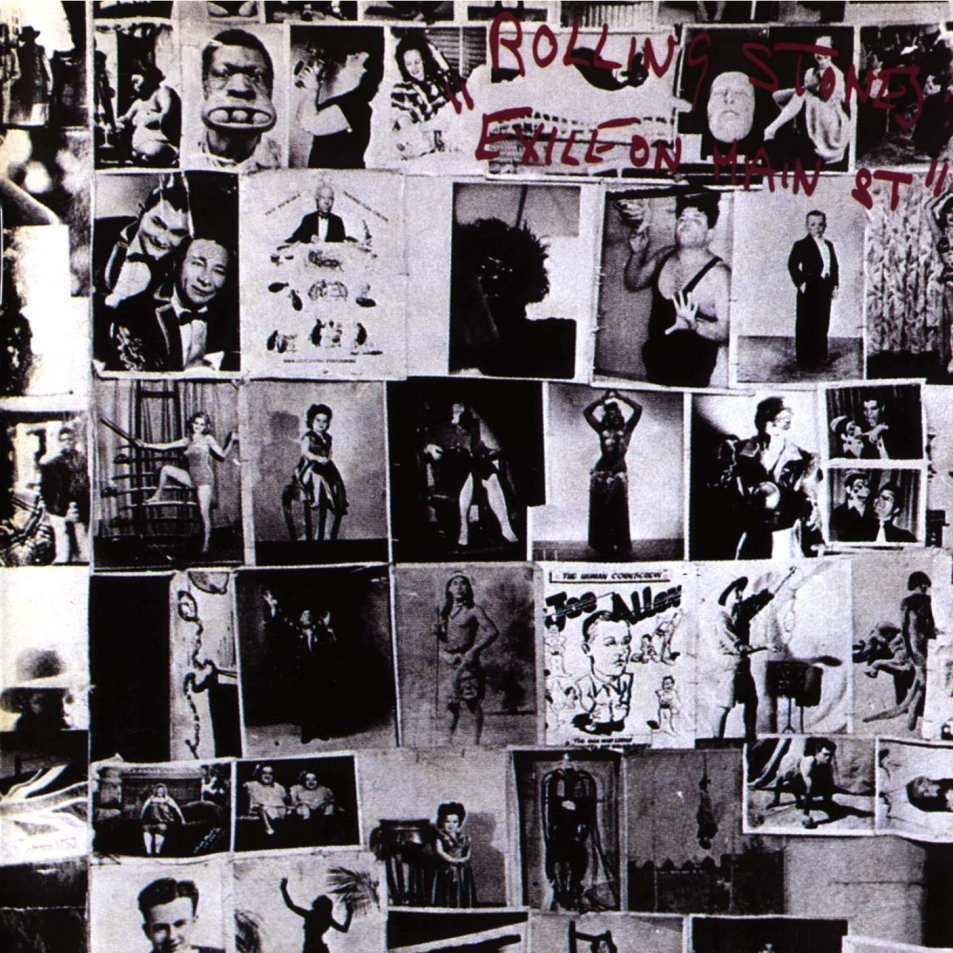 Rare is the double album that actually justifies being a double album. 'Exile on Main Street' is an album that justifies its size. By now you know that The Stones were actually exiles during the recording of this album, having been kicked out of England because of tax reasons. The album has been experiencing a critical renaissance in recent years---it was remastered in 2009, Keith Richards spoke about in his recent bestselling memoir 'Life', and the albums recording got a wonderful documentary treatment (I believe the documentary is still available on Netflix Instant Watch, you should check it out). Point is: You don't need me to go into the importance of the album. I wanted to talk about two small moments I return to: The songs 'Sweet Black Angel' and 'Shine a Light'.
The first record, 'Sweet Black Angel', is a grit-and-motherwit tribute to Angela Davis, who was facing trial at that time. The melody is lilting, and it doesn't seem too far off from the back country blues the Stones used for previous records like 'Country Honk' and 'Factory Girl'. It's difficult to find two women on more opposite ends than 70's Angela Davis and an Andy Warhol factory girl, but on 'Sweet Black Angel' the Rolling Stones manage to take those earlier light melodies and abandon the often condescending tone that went into songs like 'Factory Girl'. Suffice it to say that Velvet Underground probably couldn't have done an excellent Activist song and an excellent Factory Girl anhedonia song. The Stones could. For all the talk of the 70's Stones being a bombed and drugged out pack with no allegiance, I find 'Exile on Main Street' to be an unusually warm record. Take the albums closer, 'Shine a Light'. The band's talented multi-instrument player Brian Jones had slipped further and further into drugs and menace, and he eventually had been kicked out of the group. In '68, Brian Jones was found dead at the bottom of a pool. Keith Richards and Mick Jagger didn't even attend the funeral. 'Shine a Light', written by Richards and Jagger, is a complicated, ghostly dedication to Brian Jones. One thing has always stuck with me about 'Shine a Light'. Listen to the opening lines: Saw you stretched out, in-a-room ten oh nine; A smile on your face, and tear in your eye. If you actually listen to Jagger singing the lines, it sure as hell sounds like 'terror' instead of 'tear'. A smile on your face, and a terror in your eye', is a perfect image for setting out on your own, being exiled. It is one misheard lyric I am happy to pretend is right.

6. Jay-Z: The Black Album


It's no surprise this record came out on "Black Friday", the insane consumer holiday coming the morning after the very night in which we are supposed to give thanks for the less consumer driven things in life. This album, from its sonic and lyrical diversity (a switch from commercial to hip-hop head tracks that rivals "The Blueprint) to the very day of its release, is a perfect encapsulation of Jay-Z. I can't think of a rapper who is able to switch between commercial and cerebral with more skill than Jay-Z, and I can't think of a rapper who makes me more uneasy in doing so than Jay-Z. Jay-Z rapping about how rich he is is overkill. Why ? Because he is so marvelous with words that the message washes over you, and because, unlike 99.99% of rappers, Jay-Z actually is as rich as he says he is. Which is why, for the most part, I think Jay-Z in his later stages is at his strongest when he is outside of himself: Whether tied to a fictional concept like "American Gangster", or a real life bow-out like in "The Black Album". And no offense to the Blueprint, but: That album was tied to a sonic theme, but not a lyrical one. "The Black Album" has both.
The stuntin' almost never feels out of place on this album: We get the most alluring of the classic Jay bragging, but it's always in balance, and the overwhelming message of the album is giving thanks. Jay-Z has always advertised himself as a self made,and, and I terms of "rags to riches", he has come farther than anyone. So it's heartening to hear the outward grace of "Allure", "December 4th", and "Encore". Of course Jay warns that the game will die after he retires, but it never feels solipsistic or paranoid, like it has in later releases. About the only song that doesn't work on here is "Change Clothes", in which Jay-Z raps that he's back. We like to think of him leaving, and the song simply feels out of place. Hip-Hop has never had a graceful exit, let alone a voluntary one from a man who was, at that point, actually the best rapper alive. I believe Jay-Z retiring would have a set a great precedent for rap, and I have lost some respect for him for coming back. If he had retired when he said he would, I probably would have called him the greatest ever. Still, at least we know he knows how to make an exit when the time comes.

5.Bjork-Vespertine


Written about this elsewhere, so I'll be succinct here: