Discussion Starter
·
#1
·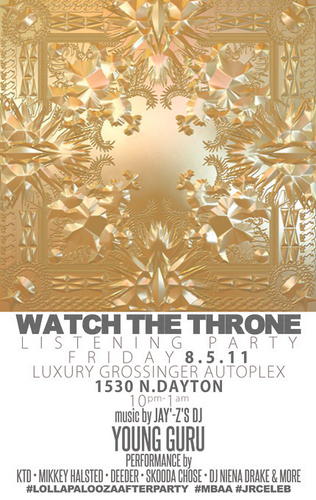 This can't be life, right?
So the most heavily guarded album (by armed guards, I was told by a Def Jam rep) of our day will be played tonight at the Luxury Grossinger Autoplex without Jay or Ye in attendance? Obviously this plugger has no mention of Shawnye, but Young Guru (and if you don't know who he is, close your browser now) is DJing. So Guru has clearance to play the album? Interesting.
Oh, there's also this article on FUSE (who are Lolla sponsors) speculating that Jay might join Coldplay on stage tonight. That's just some food for thought, dog. Get a plate.
Somebody call DDotOmen
http://www.fakeshoredrive.com/2011/08/jay-z-kanye-in-chicago-for-a-wtt-listening-session.html/