Discussion Starter
•
#1
•
In exactly one year one of these artists will all be on the level of Trinidad James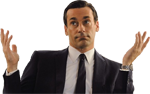 But one of them might not be
Lil Dicky
Kodak Black
Black Youngsta
Wait a minute.....
Hold on. I'm seeing a light skinned man. He's rapping, no wait he's singing. His beard is magnificent.
He's simping over a girl. Now he's acting like he's hard

he's with a guy in his 30's who's mumbling something about codein
They're kissing each other now. Wait now a homeless guy has entered the room. God his teeth look terrible, I bet he doesn't have any features.

it's an orgy