Discussion Starter
·
#1
·
Wingman(weeng-man)[
n.
] A Wingman is a guy you bring along with you on singles outings (like to bars) that helps you out with the women
This is just a brief description of what a wing man entails. But this course is to show basic tips on how to be a good wingman.
First, if the class would focus their attention to the television set.....
*rolls out 30 inch tv set borrowed form the TV/Flim thread*
*sees tv is broken*
smh @ the KTT Educational funding. Well I guess this should be expected seeing as how this site is still young.
I digress, open your MTV books and turn to page 38
http://www.mtv.com/videos/jersey-shore-season-2-ep-12-deja-vu-all-over-again/1649937/playlist.jhtml
Fast foward to 38:00
"I need somebody that knows how to take one for the team or enterain a grenade or even decipher a bomb if one comes," says Pauly about Mike's poor job as a wingman. "It's a war out there."
THIS FOLKS, IS HOW NOT TO BE A SERVICEABLE WINGMAN.
The sole purpose of a wingman is to help your com padre to get his dick wet when their is an obstacle, usually a fat bitter.
You are to be the pippen to his his jordan, the marvin harrison to his peyton manning, the spliff star to his busta rhymes.
The sole purpose is for HIM to get pussy, NEVER forget this.
The wingman is a role is one of selflessness. If she an ugly broad your sole purpose is to get her the fuck out of the paint.
Lets go over some examples of textbook wingmanitry:
1. You and a buddy are at a bar, you see two women, 1 hottie and an ogre. You keep the orge occupied by any means necessary until your boy is done doing his thing.
2. You and a buddy are at the club and you see a group of pretty chicks. 2 hotties and a walrus. Your boy spots them, says hes gonna make a move. Assuming he's a man of taste he approaches 1 of the pretty chicks. You immediately make the walrus your primary objective, seeing as how shes the least attractive and most likely to compromise the misson, The other pretty chick is your secondary objective. You make it your mission to keep their attention on you and away from your boy. Like Artest, you guard the other teams best offensive threat, allowing your boy(kobe) to get in the paint and drop double doubles.
3. 2 hot chicks, 1 is a nagging bitch. You immediately, after assessing the situation, jump on the nagger. It is imperative you stay focus and keep her attention, the nagger is known the throw weapons grade salt on people's game. The nagger can literally talk you to death. The wingman who can neutralize the nagger is a valuable one. Why, because hes willing to put his life on the line so his brother in arms can go to the paint and make highlight plays.
Ok class, I'll leave some pics of wingmanitry on the front rows, jus pass them back to your classmates....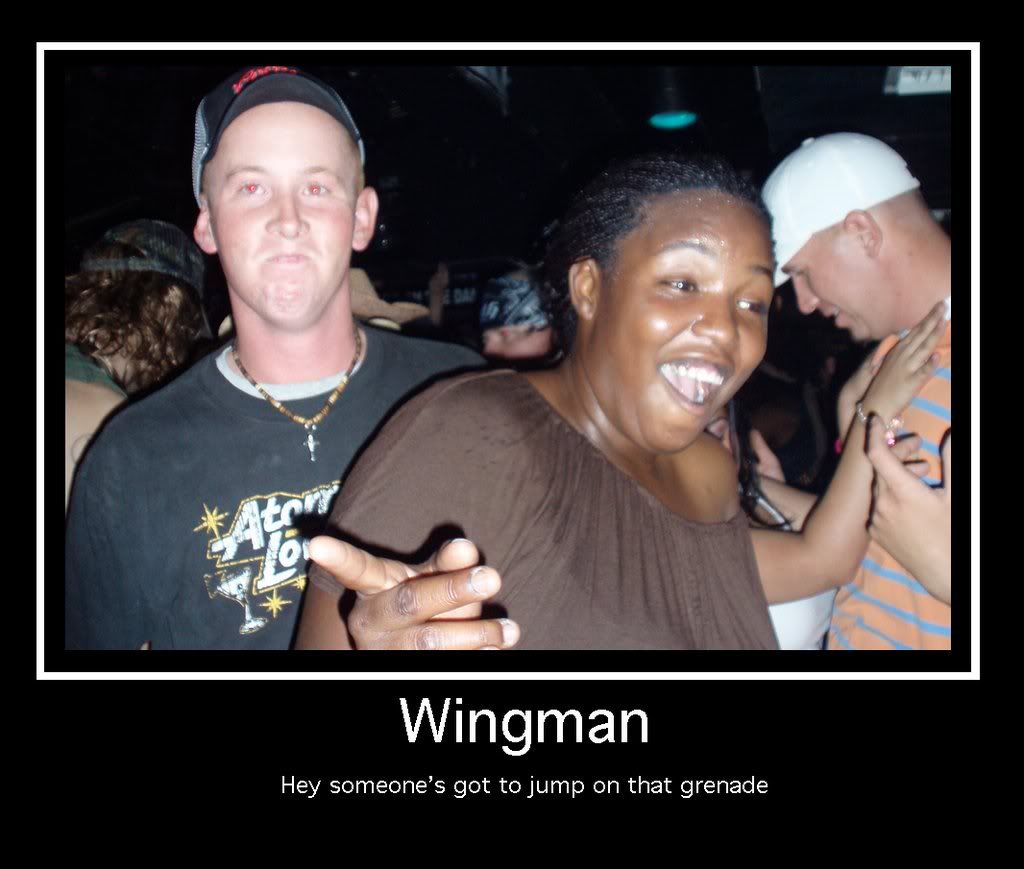 Meanwhile i'll put in this compilation VHS tape I made of wingmanitry.....
Questions?

.....